PMT Introduction:
Photomultipliers Tubes (photomultipiers or PMTs for short) are traditional vacuum tubes designed to receive photon's from Scintillators and convert those photo's to electron's. These detectors multiply the current produced by incident light by as much as 100 million times (i.e., 160 dB), in multiple dynode stages, enabling (for example) individual photons to be detected when the incident flux of light is very low.
The combination of high gain, low noise, high frequency response or, equivalently, ultra-fast response, and large area of collection has maintained photomultipliers an essential place in nuclear and particle physics, astronomy, medical diagnostics including blood tests, medical imaging, motion picture film scanning (telecine), radar jamming, and high-end image scanners known as drum scanners.
PMT Advantage:
PMT's have been around for a long time, and were reportedly first used by RCA in 1934 to capture photon's and covert them to electronic impulses.  The RCA division located in Lancaster, Pennsylvania was later purchased by Burle Industries which had worked directly with FlashPoint to provide PMT's to the downhole tool and MWD sector.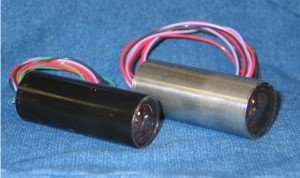 However, after Burle Industries was purchased by Photonis USA and effectively closed in 2009, FlashPoint has worked directly with additional high quality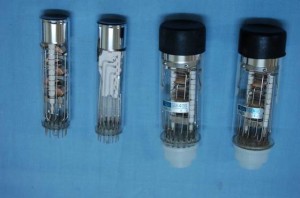 PMT manufacturers.

PMT's have the advantage in working in a wide range of temperatures provided that the required voltage is available and provided that the vacuum tube is not damaged by excessive vibration or shock.
The downside has been size, need for magnetic shielding, and paring to the scintillator to ensure compatibility with refraction index and optical window size.
PMT Detector Specifications:
Type
PMT
SiPM
Casing
Glass Vacuum Tube
Silicon Wafer
Shape
Cylindrical
Square or Cylindrical
Window
Borosilicate
 N/A
Head
Not Threaded or Threaded
Not Threaded or Threaded
Temperature
-35C to 175C
(-31F to 347F)
-35C to 20C
(-31F to 68F)
Vibration
100g 11 milisecond
N/A
Spectral Response Range
300-650
300-800
Max Emission (nm)
400
420
Refractive Index
1.51
N/A
PMT Common sizes and part-numbers:
| Type | Max. Temperature | Shape | Outside Casing Size | Model No. |
| --- | --- | --- | --- | --- |
| PMT | 125 | Cylindrical | 1.08" (27.5 mm) x 3.34" (85.0 mm) | FPPML-108-334 |
| PMT | 150 | Cylindrical | 1.08" (27.5 mm) x 3.34" (85.0 mm) | FPPMM-108-334 |
| PMT | 175 | Cylindrical | 1.08" (27.5 mm) x 3.34" (85.0 mm) | FPPMH-108-334 |
| PMT | 125 | Cylindrical | 1.1" (28 mm) x 4.13" (105.0 mm) | FPPML-110-413 |
| PMT | 150 | Cylindrical | 1.1" (28 mm) x 4.13" (105.0 mm | FPPMM-110-413 |
| PMT | 175 | Cylindrical | 1.1" (28 mm) x 4.13" (105.0 mm | FPPMH-110-413 |
| SiPM |  Contact Us | Cylindrical or Square | TBD | TBD |
Size Selection:
To ensure that your scintillator output window matches your detector input window please confirm with our technical staff to confirm comparability. To learn more and to place an order please contact us.
Additional Options:
Additional Options Include:
Packaging:
FlashPoint takes great care in shipping your order to you.  Each PMT detector is individually packaged inside tough industrial strength tubes that you can later re-use to ship or store other valuable components.
Delivery Terms:
Please contact us to confirm current inventory and to confirm delivery date based on size of order and location of delivery.  We do accept transportation on your shipping account.
Warranty:
FlashPoint provides a 1 year "no-nonsense" limited warranty on its PMT Products